Singer/Songwriter Dave Barnes Releases New Album, "Golden Days"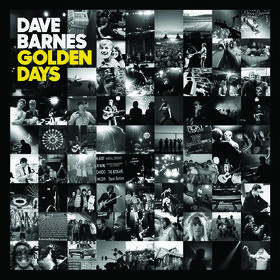 NASHVILLE, TENN. – – Tomorrow is the day that GRAMMY® and CMA award-nominated Dave Barnes releases his eighth studio album, the anticipated Golden Days (50 Year Plan Records). Available on the heels of his second Christmas collection, 2013's A December To Remember, Barnes co-produced the nostalgic bluesy pop songs of Golden Days with multi-GRAMMY nominated Ed Cash.
When he first showed up on the music scene 12 years ago, Dave Barnes hit the college circuit with limitless energy and an equally unrestrained expectation for the future. Since then, this singer-songwriter has written and released numerous albums, played hundreds of cities each year and received GRAMMY® and CMA nominations for Blake Shelton's cut of his song "God Gave Me You." He became a father and formed deeper relationships in the industry than his 23-year-old self could have dared hope.
Now, Barnes is in a season of both nostalgia and reality about what it means to be a traveling musician, and those reflections have become the life and breath of Golden Days. "It kind of tells a story of beginning something, where you are now and, as the season changes, the things you look back on," he shares.
"I've tried as I've gotten older to make records like they're chapters in a book, to try to really capture what I'm thinking about in that season," he explains. "This record, to me, is probably one of the most interesting subject-wise. It's a bit retrospective."
Though he's refreshingly candid about the realities of the road, when Barnes sits back to survey his career so far, the emotion that rises is one of gratitude, expressed on his favorite track and the first single "Good." The piano-led ballad finds him taking in the blessings of his everyday life – the sunrise, his wife, little footsteps on the stairs and the wrong turns and heartaches that have allowed him to recognize the gifts for what they are. "Good," is currently at radio and a music video is in production.
An artist loved for his approachable and hilarious nature, Barnes is actively involved in building into the Nashville community and using his experiences to help others. From spearheading a monthly gathering of artists to mentoring younger musicians, he lives by the question, "What good is what you know unless you can share it with other people?"
No question, Dave Barnes is the real deal. Singer, songwriter, storyteller, husband, father, mentor. These are indeed his Golden Days.