Sidewalk Prophets' Dave Frey and Ben McDonald Pen Children's Book, 'The Luckiest Star'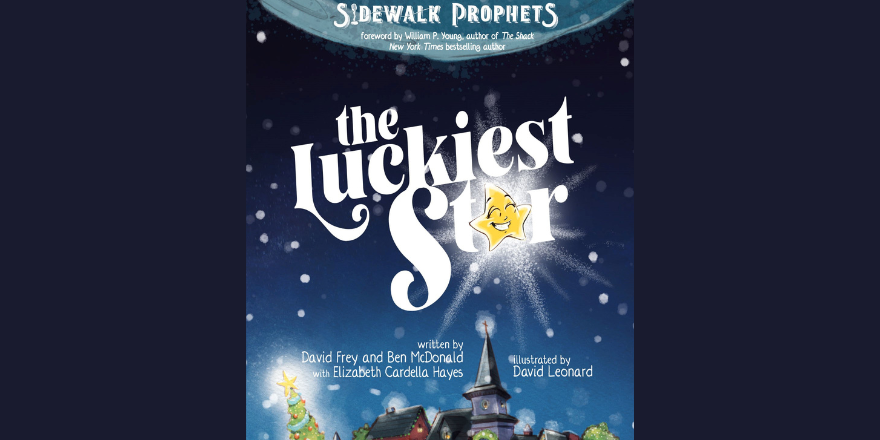 Sidewalk Prophets co-founders Dave Frey and Ben McDonald have redirected their creative talents to pen a new children's book, titled, The Luckiest Star.
"The Luckiest Star was such a dream to create," shares Frey. "Since we wrote our song 'Hey Moon,' I had always hoped to write an accompanying book that I could someday read to my child. Since I became a dad a couple years ago, it was finally time. I hope that it will bless your family this Christmas and all year long, as we all discover what it means to be known, loved, and made for an important purpose."

The Luckiest Star, a true labor of love which took four years to create, edit, and execute, tells the story of Hemmy, the smallest, silliest little star in the galaxy. With his best friend, the moon, lighting his path, Hemmy sets out on a quest to find the place in the galaxy he truly belongs. A sudden encounter with the Maker at Christmastime helps Hemmy realize he was made to shine, and he soon learns his light was destined to illuminate the greatest gift the world has ever known.

McDonald adds, "This has been such a special project to collaborate on. Dave and I have been writing songs together for years, but it was really special to work creatively together in a different format. We're so blessed to work with talented creatives like our co-author Elizabeth Cardella Hayes and our illustrator David Leonard. Every single person on the team pushed this story to new heights, and we can't wait to share this special labor of love with the world."
In other news, Sidewalk Prophets announced their 4th annual "Great Big Family Christmas Tour," bringing their Great Big Family together for a time of carols, fellowship, and celebration this holiday season. Like past years, each show will be in support of a local individual or organization in need, with an offering collected after the show. To date, the "Great Big Family Christmas Tour" has raised over $150K for local individuals and organizations around the country.