Actor Dennis Quaid Talks about New Film 'I Can Only Imagine': 'It Hit Me So Profoundly'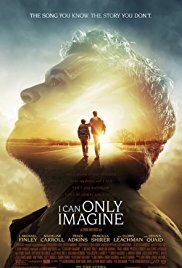 Christian actor Dennis Quaid recently appeared on the Today Show to talk about his role in the new movie I Can Only Imagine, which is based on the popular MercyMe song of the same title.
I Can Only Imagine tells the story of how MercyMe frontman Bart Millard came to write the song which became not only a hit on Christian radio, but a cross-over chart-topper.
Millard grew up with an abusive father who ultimately experiences redemption. It was often music that got Bart through his darkest days.
Talking to Today Show hosts Kathie Lee Gifford and Hoda Kotb, Quaid, who has previously been a part of the faith-based film Soul Surfer, said he was drawn to the film because of its redemptive element, even though he hadn't been familiar with the song before he was offered the part.
"It hit me so profoundly," he said. "I wanted to be a part of this."
"I think each person makes it about their own personal life...and that's what's so beautiful about it. And hopefully we've accomplished the same thing in the movie."
"It's not a Hollywood redemption story," he continued.
I Can Only Imagine will be in theaters next week, March 16, 2018.