Cameras Rolled As Police Officer Realizes the Student He Pulled Over for Speeding Needs Help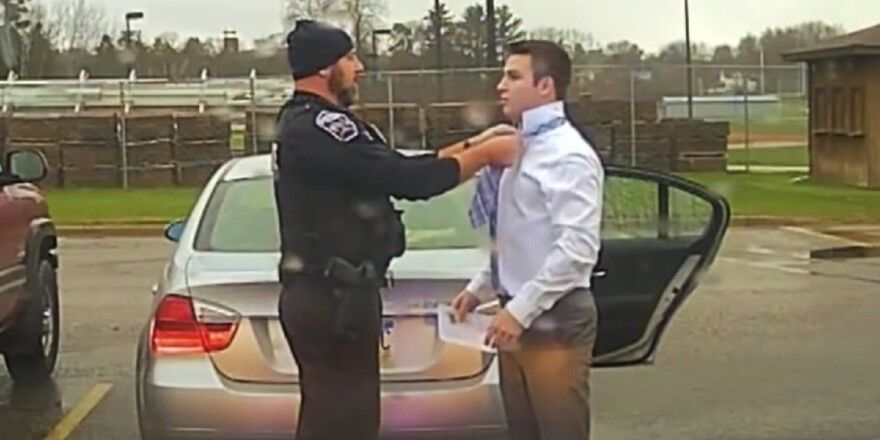 By Mel Johnson, GodUpdates.com
After a student pulled over for speeding in Wisconsin explained his situation to Officer Folczyk. the police officer surprised the young man by lending a helping hand rather than writing him a ticket!
When police officer Martin Folczyk saw a car zip by, he pulled the driver over or speeding.
It turns out the driver was a student at the University of Wisconsin-Stout. And after pulling over into a parking lot, he got out and began explaining his predicament.
This student had a big presentation that morning for one of his classes. He was trying to dress the part in a suit and tie. But the young man didn't know how to tie a necktie.
He'd tried driving over to a friend's house for help. Unfortunately, though, his friend wasn't home and now the student was running late.
And that was about the time Officer Folczyk pulled him over for speeding.
Student Pulled Over For Speeding Gets Unexpected Help
As the flustered young man explained his situation, the police officer immediately asked for the tie. The student continued explaining but as he did so, Officer Folczyk began tying the necktie for him.
After checking the young man's registration, the kind officer gave him a verbal warning. But more importantly, he continued working on the man's necktie until it was suitable for the presentation. What a kind and generous thing to do!
What a wonderful example of exercising grace. After the officer pulled the student over for speeding, he could have easily brushed off the young man's excuse and written him a ticket. But instead, he took the time to hear him out and then help. That's something that will stick with this young man forever. There are so many kind police out there like Officer Folczyk, who truly look for any and every way to serve and protect their communities.
Though this event took place in 2016, it is still just as powerful today. Because kindness never goes out of style!
WATCH: Police Officer Ties Tie For Student He Pulled Over For Speeding