Music Review: Phil Stacey's "Into The Light"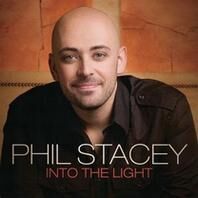 September 11th, 2001 was a defining moment in American history. For the first time in years, citizens had a reason to fear further attacks on US soil. It was a time of immense grief, as people not only looked upward to God for peace, but inwardly at themselves, questioning their own mortality and motivations. Among those shaped by the events of Sept. 11th was Phil Stacey, who enlisted in the Navy in 2003 as a direct response to the tragedies.
The son and grandson of pastors had, up until that day, been content with his role as a music minister in Denver. He was able to use his musical talents as an officer, too, having the rank of Musician Third Class.
His stint with American Idol in Season 6 was rather successful, making it all the way to the Top 5 before being voted out.
Upon hearing the first track of Into The Light, I thought his voice reminded me of another Phil (Collins). I've also been told he's comparable to fellow Idol alumnus Chris Sligh as well as Warren Barfield. The chorus of said first track, the piano led and flanked "Inside Out", stayed with me for a few minutes after I listened to it. It's got this constantly driving sound, which I liked. The song is asking God to change him from the inside out and remove the world's influences, which he gets caught up in a lot.
In fact, it seems like faithfulness is a running theme in this album. You're Not Shaken tells of faith in a time of crisis because God is one who will not be moved when everything else is falling apart. Phil describes this as his "Job song". I thought his voice got somewhat drowned out by the electric guitars, though. (Interestingly enough, I could've sworn I heard maracas in the background of this one!) With All My Heart expresses his desire to be faithful right back and to honor God with everything he is and has. True to the title, it really sounded like he poured his heart into this one. There's also a cover of Rich Mullins's song Hard To Get, a song about the contrast there seems to be between God's "omni" qualities and our own mortal ones, and it questions whether God really listens to us. Even here, the resolution of the singer is that God does care, even if we sometimes feel like he doesn't. Phil recorded this song because it was inspiring to him in a moment of transition where he felt like he was waiting for something to happen.
One. Now if this song hasn't or doesn't get picked up as the theme song for some charity campaign or other, it will be. This song was inspired by Phil's grandfather, a Kentucky pastor who was generous to a fault, as well as responsible for planting several churches. In this world, it seems like there are so many people who think they can't do anything because they're only one person, or have so little to offer. Phil reminds us that one is a bigger number than we give it credit for; yet since we only have one life, we'd better use it. Not for glory-seeking, either, but expressions of genuine Christ-like love. The song starts off quiet, but swells powerfully as it goes on. I thought the ending was a little abrupt, though; the twinkle should've had more piano afterwards.
Into The Light ends off on a beautiful note with Old Glory, a song dedicated to the American flag and all it stands for. Citizens of the USA are encouraged to come together as one to declare their pride in their nation, and the Christian ideals it was built on. The song starts quietly with a simple piano accompaniment, and you can really tell he believes what he's singing, even if you didn't know he has a military background.
Closing Thoughts:
Into The Light is a great collection of songs that serve to inspire and reassure us that God is faithful, and we must live our lives honoring Him completely. One and Old Glory have potential as crossover songs because of their themes (making a difference and American patriotism, respectively). Phil's message comes through loud and clear. With songs ranging from slow and medititative to upbeat and inspiring, I look forward to catching one of his songs on the radio.

Track Listing:
1. Inside Out
2. It's Gotta Be Love
3. Sanctuary
4. You're Not Shaken
5. One
6. With All My Heart
7. Into The Light
8. Some Kind Of Love
9. Glorious
10. Hard To Get
11. Old Glory
---
This review has been republished with permission -

Independent Reviews. Latest Releases. Christian Music Review