Music Review: Avalon's "Reborn"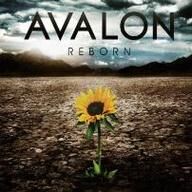 CCM supergroup Avalon made their mark on the industry over a decade ago with hits like "Testify To Love," "Give It Up," "Adonai," and "Knockin' On Heaven's Door." Now, with six studio albums and a slew of side projects under their belt, they are (finally!) ready to release their first album of all-new material in nearly four years. Avalon has undergone many lineup changes, and now Janna Long is the only founding member remaining. Newcomer spouses Jeromi and Amy Richardson filled in spots left by longtime member Jody McBrayer and Melissa Greene. Although they are missed, Jeromi and Amy do a great job and both voices blend very well with Janna and her husband Greg, and also work well with the trademark Avalon sound.
Many fans were disappointed in the dullness and simplicity of their last album, Stand. Thankfully, this is something that changes with Reborn. Although it's not as much of a departure as the press releases implied, it is somewhat of a step up from Stand. There is nothing considerably "new" or "inventive," but the album is traditional Avalon at their finest.
Reborn kicks off with two infectious, upbeat tracks, "Reborn" and "Alive," and continues with a slew of catchy midtempo AC tracks. The worshipful "You Are Holy," which is simple but effective, would make an awesome addition to Avalon's future concerts. "California" (Random fact: Avalon is an actual city in California!) is a somewhat juvenile track lyric-wise, but the sound is catchy and different. "Destined" and "Feel" are other catchy album highlights.
However, once the album ends, it leaves you wanting something more. Reborn is a good record, but it does seem like there is something missing. Maybe it's the trademark Janna ballads, maybe it's Jody's incredible vocal range, or maybe ten tracks are just not enough to make up for four years. Whatever the reason, Reborn just lacks the punch of Avalon's earlier efforts, namely Oxygen and The Creed.
For longtime Avalon fans, this will make an excellent addition to your collection. But for those expecting something new because of the misleading buzz surrounding the album, you sadly won't find it here. It's clear that Avalon is still one of the best in their game and have perfected the AC formula to a tee. Reborn is definitely an improvement on Stand, but still doesn't measure up to some of their previous efforts.

Reborn Track Listing
1. Reborn
2. Alive
3. Arise
4. Feel
5. Fragile
6. Destined
7. Stay
8. Angels
9. California
10. Holy
---
Used with permission -