Laughs and Truth Awkwardly Co-Mingle in Mom's Night Out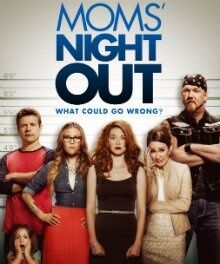 By Christa Banister, Crosswalk.com Contributing Writer
Truth be told, a word that's rarely used to describe a faith-based film is "fun." And considering that most fall on the heavier side of the spectrum thematically (see recent releases: Son of God, God's Not Dead and Heaven is For Real), it's a pretty refreshing change of pace when Christian filmmakers are willing to go for laughs rather than the obligatory altar call.
But as much as Mom's Night Out eschews the usual stereotypes of "movies with a message," an important question still remains, namely can a comedy made by Christians actually be funny and still have social and spiritual relevance?
Well, with Mom's Night Out, Jon and Andrew Erwin (October Baby) give it their best shot and get two out of three (mostly) right.
Playing out like a sanitized version of the Tina Fey-Steve Carell hi-jinks in Date Night, Mom's Night Out also captures the rhythms of modern suburban life with children—the sleepless nights, the lack of time for grown-up pursuits and the inevitable kid messiness that prevents the average home from looking like something straight out of Pinterest. And like many multi-tasking Moms, Allyson (Sarah Drew, "Grey's Anatomy") is finding it increasingly more and more difficult to keep it together. As much as she loves being a wife and mom of three, she isn't feeling particularly successful or happy lately. She's fried.
While many films severely lack in character development, the writers devote an inordinate amount of time to showcasing just how stressed Allyson is. She worries about her kids dying from salmonella poisoning when they whip up a surprise Mother's Day breakfast. She worries about her kids drawing on the walls with permanent markers. She worries that her husband (Sean Astin from the Lord of the Rings franchise) will allow her sons to play uber-violent videogames if she goes out for one night of fun with friends. She also worries about not having anything worthwhile to share on her Mommy blog.
No doubt, many mothers have struggled with the same things, but poor Allyson is barely allowed to be anything but neurotic. Without much in the way of nuance, she rarely comes across as sympathetic. As it turns out, her friends are fairly one-dimensional, too. Izzy (Logan White, Sarah's Choice) is ditzy, while the local pastor's wife Sondra (Patricia Heaton, TV's "The Middle") isn't given much to do either, save for reminding her teenage daughter to wear longer shorts and that she's too young to date.
Still, as caricatured as these characters often are (and the men of Mom's Night Out are even more clueless—Izzy's husband, a grown man, mind you, is deathly afraid of caring for his twins, for instance), there's meaningful takeaway in how hard women tend to be on themselves and each other. In the quest to be everything to everyone, there's so much unnecessary pressure—and Mom's Night Out captures that struggle with surprising sensitivity.
But as the script hits many of the right notes emotionally, the whole comedic aspect feels pretty forced. In the quest for big belly laughs, writers often resort to the truly bizarre—and predominately profane—antics found in films like Bridesmaids, The Hangover and this week's Neighbors. That's not to say that successful comedy is always bawdy, but the bland set-ups in Mom's Night Out just don't deliver. From the herky-jerky car chase to the supposedly zany trip to a tattoo parlor to the shenanigans that go down at the local bowling alley, the writers never seem sure how to mine these plot twists for laughs. In terms of making entertainment that's family-friendly for the masses, however, Mom's Night Out is a small step in the right direction.
Rather than merely aim for the conversion, they cast a far more relatable light on Christians by showcasing the value of community and taking care of one another. But as far as delivering actual laughs, faith-based comedy is still a work in progress. At least someone was willing to give it a try, though.
CAUTIONS (may contain spoilers):
Drugs/Alcohol: References to an alcoholic girlfriend and someone who struggles with smoking cigarettes. One of the comedic set-ups involves several empty beer bottles.
Language/Profanity: None
Sex/Nudity: None
Violence: Ally is afraid that her young children will play violent videogames while she's out. A car chase gets a little intense. A character waves a shotgun around. Pepper spray is used out of anger. Someone is purposely hit with a cab. A man's shoulder is dislocated, and we see him in tremendous pain as he attempts to reset it himself. A police officer accidentally tasers someone (we see her convulsing after she falls to the ground). A run-in with a biker gang.
Publication date: May 9, 2014
Page Source (url):
http://www.crosswalk.com/culture/movies/mom-s-night-out-movie-review.html